Raising prices strategically leads to record-breaking agency growth
Nextiny's Gabriel Marguglio raised prices strategically. The result? As much revenue growth in one quarter as the entire previous year!

Raising prices is a key strategy to grow agency revenue and profits. Yet if you aren't careful, you risk losing clients and hurting your growth. Thanks to Karl Sakas' custom consulting support, Nextiny CEO Gabriel Marguglio raised prices while still retaining 100% of his ideal clients. The result, after an already record-breaking year? The agency generated as much revenue growth in a single quarter as the entire previous year.
Seeking Advice to Prevent a Growth Plateau
Gabriel founded Nextiny in 2002. His agency serves high-end B2C and B2B clients nationwide, through inbound marketing strategies, HubSpot implementation, and video marketing services. Gabriel and his wife Jackie always saw themselves running the business long-term, and they prioritized creating a healthy work-life balance for themselves and their team.
Gabriel heard Karl speak in the agency track at HubSpot's INBOUND conference in 2015. During the talk, Karl challenged audience members to consider how their long-term growth goals impacted their choices today. Gabriel realized he preferred to run a lifestyle agency. Suddenly, everything started to fit together. Gabriel shared: "It was mind blowing to think about it for the first time. Karl helped clarify how being a lifestyle agency impacted our journey. It was eye opening in a lot of ways."
Gabriel followed Karl's free advice for many years—including subscribing to Karl's newsletter for agency leaders, reading the hundreds of articles on Karl's blog, and using the free tools and templates that Karl shared. Nextiny had grown to become a HubSpot Diamond Solutions Partner. But in late 2020, Gabriel realized he wanted more-personalized coaching.
The agency's day-to-day was solid, but Gabriel knew he had to make changes to avoid a plateau in growth. Yet he wasn't clear on where to focus or how to start. When Karl announced the inaugural "Work Less, Earn More" agency growth bootcamp, Gabriel knew he had to apply, to continue his growth as an agency leader. And, he made the cut!
Creating a Transformative Plan for Agency Growth
During the six-week virtual bootcamp, Karl helped the cohort of agency leaders determine what they really want from their agency, understand what they're doing now, and choose a custom strategy to make their unique ideal agency happen. Each participant created a transformative 90-day plan to achieve growth, which is exactly what Gabriel needed.
During the bootcamp, Gabriel asked Karl about working together one-on-one, to build further momentum. Karl recommended doing a custom consulting project, to help Gabriel get results. The 1:1 advice and accountability reassured Gabriel that the changes at Nextiny would be strategic, smooth, and profitable.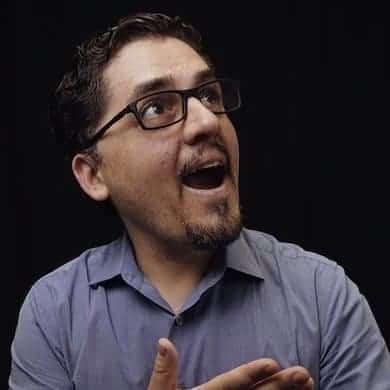 "Karl gave me the confidence to raise prices, and we've already seen big improvements. … He helped us make a plan and actually put it into action. The results are incredible. It feels amazing."
—Gabriel Marguglio, CEO, Nextiny
Successfully Navigating Difficult Client Conversations When Raising Prices
After helping Gabriel find several "Quick Wins" solutions, Karl recommended higher-impact opportunities for Nextiny's growth. The biggest priority? Raising prices at the agency.
Although Gabriel had raised rates since founding the agency nearly two decades ago, legacy clients were paying significantly less than new clients. That's common at most agencies, but some clients had been at their same rate for 5+ years. Gabriel knew that he hadn't been charging clients enough for the value of his company's work, but he didn't know how to effectively raise prices without losing ideal-fit current clients or new sales opportunities.
From helping other agencies navigate similar challenges, Karl recommended a two-pronged strategy.
First, Gabriel adopted value-anchoring in his sales process, where Gabriel explicitly compared the value clients get from hiring Nextiny (high) to what the agency was charging (low, in comparison to the value). Because Gabriel could demonstrate how his agency was delivering far more value than what the clients paid, this helped justify higher prices for new clients.
Second, Karl helped Gabriel create a custom "portfolio" approach to raising prices for current clients, to optimize the process based on multiple unique factors… without hurting client retention.
Karl guided Gabriel through the custom strategy and implementation process, including helping Gabriel coach his customer success team on sharing the price increases with the agency's clients. Nextiny successfully landed new clients at the new higher prices, and raised rates for current clients.
Gabriel shared: "With Karl's focus on creating a high-warmth client experience, we put together a strategy to have discussions with current clients. His advice had a huge impact on the organization, not just in revenue, but with our relationships with current and new clients. Karl gave me the confidence to raise prices, and we've already seen big improvements."
Result: A Record Year of Revenue… in a Single Quarter
The initial result: 2021 was the best year in nearly two decades, with record revenues since 2002. Gabriel was feeling proud of the work he and Karl had done to improve operations. He no longer felt stagnant, and business was exceeding expectations.
Gabriel shared: "We have more clients, better clients, and more revenue. Karl helped us make a plan and actually put it into action. The results are incredible. It feels amazing."
Almost a year after his 1:1 work with Karl, Gabriel reflected in 2022: "The growth has continued to accelerate, to the point where we've grown not only our revenue, but our overall well-being." As for 2021 being the agency's best year yet? Nextiny generated as much revenue growth in Q1 2022 as in all four quarters of 2021 combined!
Approaching his agency's 20-year anniversary, Gabriel observed: "There is so much value that Karl brings to the table. We couldn't be more grateful for his knowledge and support as we took Nextiny to the next level."
Want results like this for
your agency?
Accountability. Advice. Perspective.
If you're ready to focus on the things that matter—and do less of everything else—we're ready to help! Get custom strategic advice and a concrete plan to implement it when you work with Karl one-on-one via his Executive Coaching program or a Custom Consulting project.