Agency Owner Starts New Business After Making Himself 100% Optional
Want to become an optional agency owner? See how Nicolas Jacobeus did it, with executive coaching support from Karl Sakas.

Serial entrepreneur Nicolas Jacobeus is living the "fully optional" life that most agency owners dream about.
As the Founder and Managing Director of custom software development agency Belighted, Nicolas did one year of Executive Coaching with Karl Sakas. Karl helped set the groundwork for Nicolas to change his mindset, as Nicolas pursued becoming 100% optional in daily operations.
The result? Nicolas became so optional that he fully exited day-to-day involvement. Now as Chairman, Nicolas can work from anywhere in the world—and he created the freedom to launch a new venture: SaaSpirin, a productized business that provides content marketing to tech firms.
Want to become 100% optional at your agency? Here's how Nicolas did it!
Going from Frustrated and Stuck, to Finding a Path Forward
After over a decade of leading his agency, Nicolas had grown tired of the long sales process to sell custom work. Belighted was profitable and running smoothly, but he'd lost enthusiasm for the work:
"I was really bored and almost depressed with what I was doing, despite the business success. I felt like it was no longer a good match for me."
Nicolas was ready for a change… but as a solo business owner, he knew he needed help.
In 2016, Nicolas searched for "agency coach"—and Karl came back as one of the top coaches. Nicolas had previously worked with a generalist coach who focused on business challenges but not the "human" challenges that all CEOs face—a quality important to Nicolas and that he found with Karl:
"Something I will always remember was when Karl sent me a hand-written welcome note after we first started working together. It was a small gesture, but representative of his compassion. Karl also put me in the right mindset and helped me understand how to think about leading a business, reassuring me that I wasn't alone. As an owner that's super important."
Nicolas had been struggling with three main pain points at Belighted:
The focus on custom services meant he was too integral to the agency's daily operations,
He wanted to build recurring revenue, and
He wanted the flexibility to travel and to pursue new business opportunities.
Fortunately, Karl's agency advice, coaching tools, and accountability support can help make things better.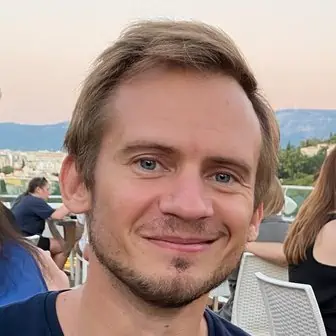 "I think Karl came at the right moment. He helped me with this frustration I had when so many things were out of my control. And I'm not the only one. There are a lot of people in the agency world who are stuck like I was, and they can benefit from Karl's help."
—Nicolas Jacobeus, Founder, Belighted
From Heavily Involved to Fully Optional
Through coaching, Karl helped Nicolas lay the groundwork to become fully optional, to create autonomy to pursue other endeavors. Nicolas later shared what it was like back in 2016:
"I love to travel and every time I would, I was afraid of what would happen at the agency. I wasn't responsible for client delivery, but I was responsible for selling all the work and handling client escalation."
For an owner to become increasingly optional, they must ensure their team understands what Karl calls Values, Goals, and Resources (VGR). This helps the team make decisions and take action, without requiring the owner's input every single time. And then, the owner—and their leadership team—will hire, coach, and recruit the right people.
Karl has helped many agency owners solve this problem—and his guidance and tools helped Nicolas to push forward, even after he finished the coaching program. Originally planning on a 2019-2021 leadership transition, Nicolas received an unexpected push forward.
In March 2020, Nicolas traveled from Europe to visit friends in Bali. Then the COVID-19 pandemic hit, and his two-week trip ended up lasting four months. This meant Nicolas suddenly had to become optional, while he was physically separated from his team at Belighted—and there was initially no timeline on when he could return home.
Nicolas shared: "I've always been interested in becoming a digital nomad and here I was! This accelerated the process because I was abroad. I was on calls, but the whole team back in Belgium had to adapt to new interactions and dynamics, so it made the process of becoming optional more natural."
While the initial rapid transition was unplanned, Nicolas still felt responsible. "It was difficult; I went through a phase with a lot of guilt because it was never my intention to essentially disappear from the agency. I had a responsibility to the team and being there in person was impossible," shared Nicolas. "I talked with other entrepreneurs and they shared similar feelings during the pandemic—that all of a sudden, they disappeared, that they were abandoning their team."
It took time to work through those uncomfortable feelings. But thanks to his earlier coaching with Karl, Nicolas reaffirmed that he was still part of the agency and the team was continuing to succeed—but now with Nicolas serving in a new, less day-to-day role.
Nicolas later shared:
"Karl has so much empathy. There's a part where he advises and there's a part where he's basically like a therapist. He reassured me and helped change my mindset."
Being 100% Optional at the Agency Helps Fund New Ventures
There are two paths to exit an agency: to sell the business entirely, or to continue as owner and investor while hiring a CEO to run things for you. Nicolas chose the "investor" path, and he hired a CEO to run Belighted.
Today, Nicolas is still 100% shareholder of Belighted, but he's fully removed himself from the day-to-day operations of the company. "I'm still involved a few hours a month as Chairman, but I'm optional thanks to what Karl taught me," he shared.
And importantly, that delegation created space for new opportunities. After achieving his personal and professional goals, Nicolas set his sights on starting his new venture: SaaSpirin.
This time, he wanted to prove he could build a productized services business. Nicolas added:
"I'm super happy to prove to myself that I was able to start a new company that's different from Belighted. There are a lot of other stages that I'm interested in too, but what I want to do first is to have a nicely designed agency that's optimizing the productized model."
Reflecting nearly five years after completing the Executive Coaching program, Nicolas continued:
"I think Karl came at the right moment. He helped me with this frustration I had when so many things were out of my control. And I'm not the only one. There are a lot of people in the agency world who are stuck like I was, and they can benefit from Karl's help."
Want results like this for
your agency?
Accountability. Advice. Perspective.
If you're ready to focus on the things that matter—and do less of everything else—we're ready to help! Get custom strategic advice and a concrete plan to implement it when you work with Karl one-on-one via his Executive Coaching program or a Custom Consulting project.