This Agency Owner Grew Retainers 34%… While Eliminating Work on Evenings and Weekends
Wish you had more time away from work as an agency owner? See how Dale Bertrand at Fire&Spark stopped working on weekends… while raising prices.

Getting Out of the Weeds 
Dale Bertrand is the Founder and Managing Director of Fire&Spark, a digital marketing agency specializing in content and SEO for eCommerce and B2B firms. Like many agency owners, Dale was stretched tight by his agency's needs, spending too much time and energy on work that didn't contribute to growth. "I knew I needed to reduce my day-to-day involvement in client billables, so I could work on growing the agency," Dale shares.
Dale chose Karl Sakas' help for two main reasons: 
Karl's experience helping owners successfully grow their agencies.

His expertise helping agency leaders navigate challenging client situations. 
Dale says: "I could tell that he was also a pro at the tricky client and staffing issues I was facing, too. Karl excels at details, tough conversations, and running an efficient operation."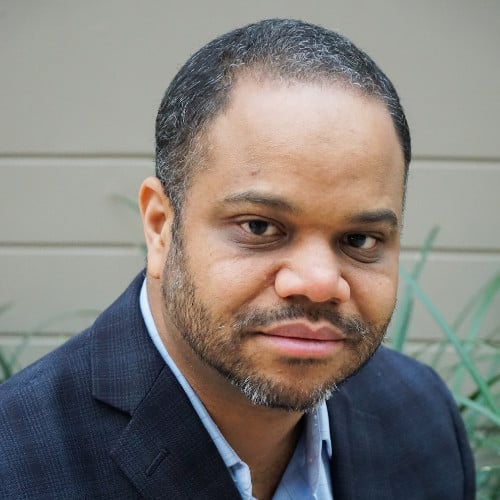 "I could start growing again, while scaling-back my hours to a 9-5 schedule… with no more evening and weekend work!"
–Dale Bertrand, Founder & Managing Director, Fire&Spark
Reducing Client Work to 10% was a Game Changer
The first major result Dale noticed after working with Karl was the reduction of his time spent on client work—which decreased from a heavy 80% to light 10%. "This was HUGE," shares Dale, "because it allowed me to start working on fixing the remaining issues in my agency. I could start growing again, while scaling-back my hours to a 9-5 schedule… with no more evening and weekend work!"
Karl also guided Dale through the process of repositioning from a generalist SEO agency to an eCommerce SEO agency. These combined efforts allowed Dale to focus on key areas that had been neglected, including hiring, staff training, and partnership nurturing.
"These were areas of my agency that I used to ignore because I didn't have enough time," says Dale, "I've now been able to spend most of my time on the sales and marketing activities I love most," and these are areas that directly grow his agency.
Navigation Through Thorny Issues Leads to a Positive Outcome
In addition to the value-add Karl had brought to Dale already, he also became a partner regarding challenging staff issues. Dale no longer felt alone when thorny situations arose. "I made a few emergency calls to Karl when things went sideways with a couple of employees. Karl calmed me down and walked me through an action plan to deal with the situations."
After completing Executive Coaching, Karl became an informal member of Dale's advisory board, where Karl has been a go-to for Dale during several key decisions and sticky circumstances.
Monthly Retainer is Up by 34%, Stress Level Is Down and Opportunities Abound
Thanks to Karl's coaching, Dale's agency is operating at full capacity and he's made exceptional new hires. He's generating inbound sales leads—including partnerships and client referrals—with 1-2 new leads a day and 26 opportunities in his sales pipeline. He shares: "My relationship with Karl has been transformative for me and my agency."
Karl's speaker coaching helped Dale keep landing speaking spots at the high-profile INBOUND conference in 2019… and again in 2020, 2021, 2022, and 2023—including getting selected among more than 1,100 applications. Dale has continued speaking—including Content Marketing World and Traffic & Conversion Summit—including pivoting to virtual lead-gen events during the COVID pandemic.
Fire&Spark's average monthly retainer is up by 34% and Dale reports: "My stress level has gone from off-the-charts to manageable." Dale has happily pruned his client list while simultaneously growing his agency and shares: "I can truthfully say that all of my client relationships are friction-free. As a result, we've seen a dramatic improvement in client retention."
Want results like this for
your agency?
Accountability. Advice. Perspective.
If you're ready to focus on the things that matter—and do less of everything else—we're ready to help! Get custom strategic advice and a concrete plan to implement it when you work with Karl one-on-one via his Executive Coaching program or a Custom Consulting project.