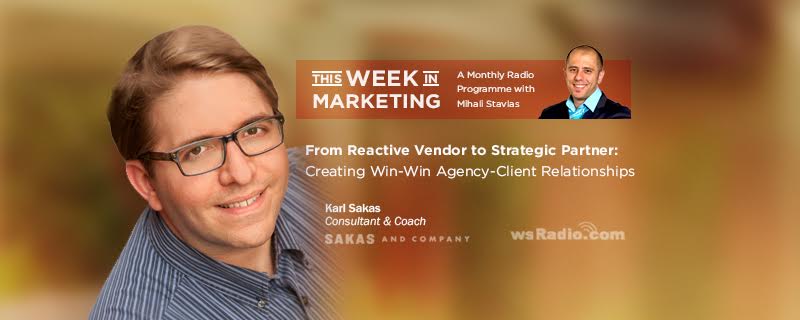 I'm doing a live interview this Wednesday—July 29th—on "This Week in Marketing" with host Mihali Stavlas. You can listen online here (click "Studio A") from 12-1pm Eastern (9-10am Pacific, 6-7pm CEST).
Update: Listen to the recording here
Mihali will be asking me for my advice on how marketing agencies can switch from being reactive "order-takers" to becoming strategic partners.
I'll also share advice to help frustrated clients, on how they can get better results from their agencies. This will be a great opportunity to understand your clients' perspective, so you can better help them now and in the future.
From Reactive Vendor to Strategic Partner: Creating Win-Win Relationships
We'll be talking about questions like this—from both the client and agency perspective:
What makes agency-client relationships so reactive?
What's different about strategy services compared to implementation?
What can agencies do up front to help new relationships by more strategic?
How does being strategic impact how agencies structure their marketing projects and retainers?
What should clients can do when their agency takes initiative to share a new idea but the client doesn't like the idea?
How can clients find agencies who'll be more proactive and more strategic in the first place?
How can clients stretch their budget to get strategic results?
What should a client or agency should do if they're unhappy with the relationship now?
How can agencies redefine the relationship so it's less reactive?
How can a client get their agency to stop being an order-taker?
What can agencies and clients can do right now to make things better?
Here's the recording! For past interviews, check out my Press/Media section.
Question: What's your #1 question about switching from reactive to proactive agency-client relationships?