Agency leaders often ask me to recommend the best client relationship management (CRM) software for their agency, typically because they aren't happy with their current CRM tools. Be careful—there's no single "software savior" for your agency.
Choosing or switching software for CRM shouldn't be taken lightly, since your CRM tool affects all aspects of your agency's sales workflow.
Be sure to find a program that works for you. Features to consider include sales pipeline management, mobile app integration, and delegation to other team members.
Let's look at CRM options for your agency.
25 popular CRM tools for agencies
The best tool for your agency will depend on your unique needs. Remember, using Google Spreadsheets is better than doing nothing to track your sales leads.
Each of the CRM tools below has pros and cons. Their being on the list isn't an explicit recommendation—just that they're an option for your agency.
Got a favorite tool to add to the list? Let us know! [Latest update: June 2019]
CRM software for agencies
1) ACT! – Organize customer details, send emails, manage activities and notes.
2) Close.io – 1-click calls, track email, automate data entry.
3) GoldMine – Analytics, automation, support tracking, and lead management.
4) GreenRope – Marketing automation, sales pipelines, and customer service.
5) Hatchbuck – CRM, marketing software, email management, lead alerts.
6) Highrise – Share tasks, notes, email history, and contacts.
7) HubSpot – Organize, track and grow your pipeline (with or without marketing automation).
8) Infusionsoft – Lead capture, ecommerce, task followups.
9) Insightly – Generate reports and manage email, mobile, events, contacts, and leads.
10) LeadMaster – Marketing automation, lead management, email marketing, website integration.
11) Microsoft Dynamics CRM – Social insights, business intelligence, and productivity.
12) Netsuite – Forecasting, upsell, commission management, deliver quotes.
13) Nimble – Social sales and marketing, insights, contact management, results tracking.
14) Pipedrive – Pipeline management, including easy access to pipeline's strengths and weaknesses.
15) PipelineDeals – Engagement tracking, lead organization, shared reports and sales views.
16) PlanPlus – Contact, pipeline, and project management, sync with Exchange, Google and Office.
17) Podio – Structure workflows, manage content, conversations, and processes in one place.
18) Prophet – CRM that works inside Microsoft Outlook.
19) Sage – Targeted marketing, automation, social, mobile, and email.
20) Salesforce.com – Access entirely on the Internet, manage contacts, track opportunities.
21) SharpSpring – CRM within marketing automation.
22) Streak – CRM inside your Gmail inbox. (This is the one I currently use.)
23) SugarCRM – Automate core sales, customer service, and marketing processes.
24) Teamgate – Team goals, lead-scoring, and autodialer
25) Zoho – Bring all conversations into one place, multiple channels supported.
Specialized tools (to use along with your CRM tools)
26) Freshdesk – Online customer support and help desk.
27) Membrain – Identify complex sales challenges to your pipeline.
28) Spiceworks – Help desk, networking monitoring, IT community.
29) TeamSupport – Help desk software for B2B customer support.
Selection process: Finding the best CRM software for your agency
The job of tools is to enhance a solid foundation. If you don't have a strategy in place, even the best CRM software will fail to get you the numbers you want.
If you are checking out this article to switch CRMs, there is also a possibility it may not be worth your time. Remember that "good enough" is best—no software will meet all your requirements. You may end up wasting time making a switch, only to find your original CRM was better.
After you've found your "good enough" tool, commit to it fully. Learn how to implement it properly, and then train your team. Don't give up if it doesn't meet all your expectations—remember, this is better than not using any tool at all.
Tools support good processes. Don't count on software alone to solve your underlying problems!
Question: What do you like and not like about the CRM software you use at your agency?
Image credit: Networking cables by Adam Selwood via Creative Commons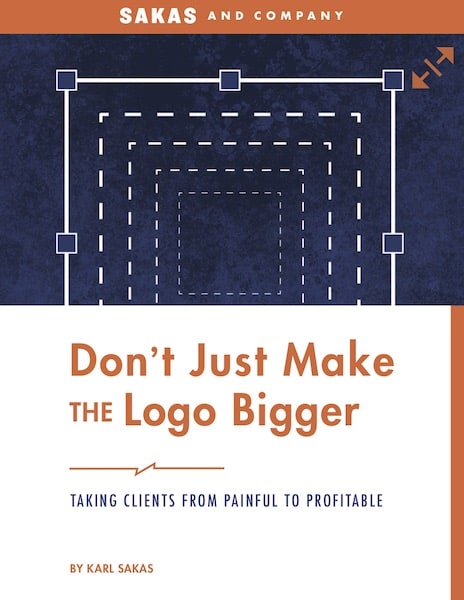 Turn your digital agency headaches into profits.
Join leaders from 1,800+ agencies and get my articles delivered each week, directly to your inbox!
Learn tips to grow your agency, and get a copy of my ebook, Don't Just Make the Logo Bigger, for free.