Trying to decide which [virtual] agency conferences to attend 2021? Here's my 5th annual roundup—currently with a lot of "TBD" placeholders. [Last updated: April 2021, including COVID-19 impacts]
My curated recommendations include 20+ events to consider—in chronological order—with a focus on the U.S. I've noted events where I have experience as a speaker or attendee.
Know any agency conferences that should be on this list? Let me know! I'll continue to update this throughout 2021. They're listed in chronological order, based on confirmed (or likely) timing.
Want to pitch events as a speaker? Check out my book on speaking for agency lead-gen. But plan ahead—events typically recruit speakers several months to a year in advance.
January 13 to February 17, 2021 (virtually)
My new agency growth bootcamp is designed to help you grow in 2021 and beyond. The theme is "Work Less, Earn More," and the format is 100% virtual.
Over six weeks, agency owners and leaders get live training, group coaching, and assignments to help them jumpstart progress in 2021. The six modules are: Work Less, Earn More, Enlist Your Team, Choose Your Growth Strategy, Create Your 90-Day Plan, and Take Action.
Participation is by application only, focusing on owners of agencies with 5 to 100 team members. The event sold-out in December 2020; you're welcome to apply for a future waitlist spot.
February 8-11, 2021 (virtually)
This new conference on agency new business is from RSW/US. The event incorporates four days of sessions, focused on business development.
The inaugural theme is: "A Look Under the Agency and Marketer Hood: Frontline Perspective from Marketers & Agencies to Help You Win in 2021!" This year's topics included trends predictions from agency leaders and CMOs, benchmarks and best practices, and client-win case studies.
February 24-26, 2021 (virtually)
This three-day conference from the Bureau of Digital is tailored to digital agency owners. The event incorporates moderated discussions, traditional talks, and ongoing support to empower attendees. Last year's Owner Summit includes a mix of moderated conversations and speakers, versus the 2019 focus on workshops and speakers.
Several of my clients have attended past Owner Summits—they reported good learning and networking—and I joined in 2019 to attend the pre-conference workshop day. The latest event ran February 6-7, 2020, in New Orleans.
May 19-20 + 26, 2021
Mirren Live focuses on agency growth. Topics include aligning agency and client incentives, the latest tools to run your agency, how to turn your website into an active lead-gen tool, and agency pitch demonstrations.
There's a live broadcast ticket, with several pricing options. In 2019, the in-person event featured 30+ sessions with 60+ speakers and 400+ agencies attending. In 2020, the event shifted online—with recordings available for all four days.
The next event will be May 19-20, 2021—with the full schedule available since March 2021. The 2021 theme is to "Build a Faster, Smarter, Healthier Agency." There's also a post-conference workshop, focused on building a marketing machine.
Summer 2021 in Breckenridge, CO
This now-annual event is a spinoff from the long-running SearchCon conference in the Denver area. Content is targeted to owners of digital agencies—topics like finances, leadership, automation, lead-gen, and more.
I keynoted both the first event in 2018 and the second event in 2019. I like that AgencyCon's size provides great networking. The latest event was September 23-24, 2019, in Breckenridge, Colorado.
The next AgencyCon shifted from Fall 2020 to Summer 2021. As of early April 2021, details for 2021 were TBD.
August 2-4, 2021 (virtually)
This annual AdAge event is designed for small- to mid-size agencies. Pre-pandemic, the schedule typically combined an evening of networking and cocktails, plus a day of conversation and talks that tackle challenges and opportunities in small agencies.
During the pandemic, this turned into a 3-day event online from August 3-5, 2020. I enjoyed attending the live event, which coincided with Hurricane Isaias.
In mid-February 2021, AdAge announced that they're accepting 2021 applications through April 27, 2021. Applicants benefit from AdAge's "entry concierge service." As of mid-February, the conference and awards show will be virtual from August 2-4, 2021.
August 10-11, 2021 in Chicago
This new Agency Management Institute event is from long-time agency owner and consultant Drew McLellan.
In late March 2020, BABA Summit had postponed from May to November 2020. In early September 2020, the event had shifted to August 10-11, 2021 in-person in Chicago.
As of late March 2021, the speaker lineup includes Jay Baer, Robin Boehler, Scott Leff, Drew McLellan, Amber Naslund, Liz Nead, Joe Pulizzi, Paul Roetzer, Robert Rose, Sharon Toerek, Eric Vardon, and Tamsen Webster. You can register here
September 13-15, 2021 in San Diego
Now in its 12th year, the 2021 event is moving to the San Diego Convention Center, after becoming the virtual T&C360i for December 15-17, 2020.
In 2020, the conference included an "Agencies Only" track with agency-specific content, to complement DigitalMarketer's Certified Partner program. I spoke in the "Agencies Only" track in December 2020, on how to fix "profit leaks" at your agency. (If your net margins are less than 20%, you have profit leaks.)
T&C has noted that speaker announcements for 2021 were coming soon. As of early April 2021, the track and speaker lineup were TBD.
September 19-21, 2021 in Nashville, TN
This annual conference by the Public Relations Society of America (PRSA) focuses on C-suite issues, case studies, and research that leads growth. The conference draws primarily from PR agency owners, but attendees provide a range of services. I spoke at the 2016 event in Puerto Rico.
After PRSA announced they were cancelling the Spring 2020 conference due to COVID-19, they announced a virtual conference on May 5, 2020. The 2020 theme shifted from "2020 Vision: Leading the Agency of the Future" to "Leading the Agency of the Future Post-Pandemic."
In February 2021, the event was scheduled for September 19-21 (in-person) in Nashville, TN. There will be a free virtual conference "prelude" on May 18 (streamed from Nashville); the fall event will include a hybrid virtual and in-person option. As of April 2021, PRSA had announced the speaker lineup.
TBD for 2021
This annual two-day event by Andy Crestodina of Orbit Media features national-level speakers (e.g., Ann Handley, Gini Dietrich, Joanna Wiebe, Mark Schaefer, Wil Reynolds) while providing the intimacy of a regional conference (~500 attendees). Compared to conferences with thousands of guests, think of it as "big names in a smaller setting."
Organizers cancelled the September 16-17, 2020, in-person event in Chicago. As of early April 2021, details for 2021 were TBD.
TBD for 2021
This new virtual event launched in September-October 2020, focused on helping agencies (and other professional services firms) attract, win, and serve better clients. My 2020 keynote was: Work Less, Earn More: How to Become Increasingly Optional in Your Business
ClientCon is organized by sales expert Liston Witherill of Serve Don't Sell. The full 2020 speaker lineup included: Amy Hebdon, Blair Enns, Brian Casel, David C. Baker, Hillary Weiss, Jake Jorgovan, Jason Bay, Jeff Bajorek, Jeff Meade, Jonathan Stark, Justine Sones, Kai Davis, Karl Sakas, Kelly Campbell, Kelly Waffle, Marc Aarons, Margo Aaron, Marie Poulin, Mark Butler, Melanie Chandruang, Michal Eisikowitz, Philip Morgan, Raj Nathan, Robert Williams, Ron Saharyan, Sean D'Souza, Thomas Edwards Jr., Todd Caponi, Tom Miller, and Tyler Koenig
As of early April 2021, details for 2021 were TBD.
September 28 – October 1, 2021 in Cleveland, OH (and virtually)
Head to the Content Marketing World Conference & Expo (CMW) to learn from and network with content marketing industry leaders. The 2020 event shifted virtually over October 13-16, including the Agency Strategies track.
In December 2020, CMW confirmed 2021 dates, in Cleveland, OH. You can also access on-demand recordings from 2020. The 2021 theme is "Connections."
TBD for 2021
This week-long event features seminars and workshops on topics like storytelling through different mediums, creating connections in the industry, what brands want, and influencer stories and lessons.
The New York events are part of an international network that reaches 98,000 people. The latest event was September 23-26, 2019, in New York—with a controversial close.
After cancelling the 2020 event, Advertising Week announced it would return in 2021. As of late December 2020, Advertising Week had announced signature events for 2021—and the website had shifted to a continuous events model.
In February 2021, Advertising Week announced the AWEurope would run May 10-13, 2021.
October 4-6, 2021 in Las Vegas
Hosted by the Digital Mastermind Group (DMG), this three-day agency conference features a mix of expert speakers, in-depth roundtable discussions among agency owners, BarCamp sessions with quick tips, and networking. Topics at the prior event in 2019 included innovation, M&A, and social media for business development.
In March 2021, DMG booked me to keynote the October 2021 event, sharing my advice to help agency owners "Work Less, Earn More." Want to join me in Vegas? Register here.
October 12-14, 2021 in Boston + virtually
After the 2020 event shifted online—and drew 70,000 registrants—the 2021 event will be a hybrid of in-person (in Boston) and online. Past keynotes have included Adam Grant, Beth Comstock, Brené Brown, Ed Catmull, Michelle Obama, and Shonda Rimes.
I spoke at INBOUND in 2015, 2017, 2018, and 2020. My 2020 talk focused on helping agencies handle difficult clients.
Starting in September 2020, you can buy 2021 digital tickets. As of early February 2021, timing on in-person 2021 tickets was TBD; tickets will be 100% refundable until March 20, 2021, with some partial refunds after that.
In February 2021, HubSpot announced the event was moving to October 2021. Speaking applications opened in late February 2021, through late March 2021. This included dropping the "Elevate & Empower" track, to focus instead on Marketing, Sales, Customer Service, and HubSpot Academy. HubSpot notes there will be 100+ curated speakers in 2021.
June 3, 2021 virtually
This members-only agency management conference is hosted by the American Association of Advertising Agencies (4A's). It's part of the 4A's shift toward delivering agency management content via smaller events.
Topics in 2020 (virtually October 12-13) focused on "Guiding your business through the coronavirus crisis."
In March 2021, 4A's announced MPF would be a full-day virtual event on June 3, 2021. Speakers were TBD, but the focus will be:
"Was 2020 the great reset for our industry? What's forever changed and what business practices will snap back to 'normal' when we no longer have Covid to contend with? This year at MPF, we'll hear from agency leaders about how they not only pivoted during 2020, but how they are preparing to return–not to normal, but to better."
October 25-27, 2021 (virtually)
This long-running digital PM conference is hosted by the Bureau of Digital. If you have PMs, they should go there… and ideally have already pitched you on going. (It's a sign they're not a "reluctant PM.") I spoke at DPM Summit in 2014.
The event moved online for October 19-21, 2020: "[F]or the first time ever, you'll be able to see every single talk! That's right, we've added another day and removed the multi-track sessions."
The Bureau of Digital announced 2021 dates in December 2020, in a virtual/online format.
TBD for 2021
In 2020, this new event from social media software firm HeyOrca! featured seven speakers focused on helping agency leaders take back their day. I did the workshop series' interactive keynote: "Design Your Ideal Agency: A New Approach to Growth in 2021."
As of early March 2021, details were TBD for 2021.
November 3-4, 2021 (virtually)
This annual event targets agency CEOs and their top lieutenants, capped at 150 attendees in 2020 (up from 135 in 2018). The sold-out 2020 event topics included: profit margins, breakthrough innovation, engaged remote workforce, operational strategy, revenue growth, and account profitability.
For 2020, Mirren rebranded the event from Mirren CEO Summit to Mirren Executive Leadership Summit—although the event has long been open to both CEOs and other top leaders—and moved it online.
As of December 2020, Mirren noted that November 2021 registration will open July 2021.
TBD for 2021
In 2019, Search Engine Land added a one-day Agency Operations & Management track to their long-running SMX East conference. They noted:
"New York City is the advertising agency capital of the world. That's why SMX East features a brand new, full-day track dedicated exclusively to agency operations and management — in addition to our hallmark SEO and SEM content. In-depth sessions will deliver executive-level education and peer-to-peer conversation for agency principals, executives, and senior leaders."
The first year's topics include "Profitable Pricing Strategies For Agencies," "Managing Clients, Managing Yourself," and "Handling Client Transitions." I spoke in the inaugural Agency track in 2019—"Getting Your Agency Services Mix Right," moderated by Editor-in-Chief Ginny Marvin.
In mid-September 2020, organizer Third Door Media cancelled the in-person event in New York and shifted to SMX Virtual over December 8-9, 2020. As of mid-February 2021, agency-oriented details for 2021 were TBD.
TBD for 2021
The SoDA Academy brings together leaders at top digital agencies, entrepreneurs, education experts, and client-side marketers in a two-day learning conference. Given its origin as the "Society of Digital Agencies," SoDA has strong digital roots.
The event is open to non-members, but SoDA requires an application to the conference. I spoke in 2016 at the second Academy (on agency business strategy and on team management).
After cancelling the 2020 event, SoDA shared in June 2020: "Later this year, we will evaluate options for hosting The Academy in 2021." As of late March 2021, details for 2021 were TBD.
May 2022 in Alaska
Want to skip 2021? You can think about 2022… Rather than "Fear of Missing Out," the FOMO Retreat conference is about the "Future of Marketing Opportunity." There are four tracks: Agency Models, AI & Machine Learning, Future Technology, and Analytics & Attribution.
Although FOMO Retreat is a first-time event, lead organizer Ross Johnston has run a number of events before—and he draws from his experience as an agency owner.
I'm co-organizing the conference (now deferred to May 2022, specific dates TBD), serving as track lead for Agency Models. I'm curating sessions to cover hot agency topics—include rapid growth, how to find time to take an annual sabbatical, and how to hit your 2025+ growth goals.
We're meeting at the Alyeska Resort, less than an hour for Anchorage. Tickets include hotel and meals during the conference; there's also an optional Alaska adventure day. Tickets for the 3-day inclusive event aren't cheap—but you can save with code Sakas when you register online.
Pick the Right Agency Conferences
Conferences can be great, but they can also be a time-suck—even if they're fully or mostly online. Read my article on how to get more out of your next conference, including things you need to do before, during, and after the event. And if you're thinking of organizing your own lead-gen event, see my 47 tips.
QUESTION: Which agency conferences are you planning to attend in 2021?
Note: This post was originally published November 4, 2020. Since then, we're updating it regularly with the latest event info, including COVID-19 pandemic and recession impacts (currently: as of April 9, 2021).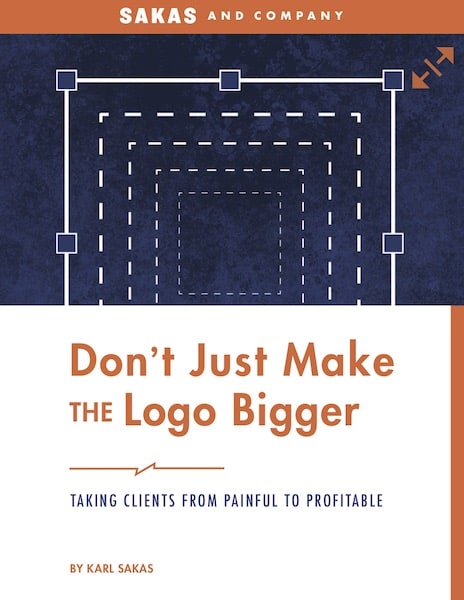 Turn your digital agency headaches into profits.
Join leaders from 2,000+ agencies and get my articles delivered twice a week, directly to your inbox!
Learn tips to grow your agency, and get a copy of my ebook, Don't Just Make the Logo Bigger, for free.